Something Went Wrong
Oops, looks like something went wrong! We are sorry for the inconvenience caused whilst trying to find your next trip. Please refresh the page or try again later.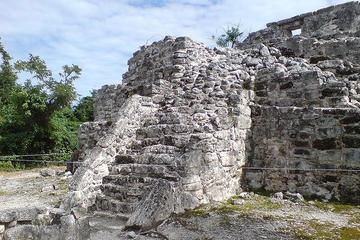 San Gervasio Mayan Ruins Tours
6 Tours & Activities
4WD Tours
86 Tours & Activities
Outdoor Activities
188 Tours & Activities
Log in
The email or password you entered isn't correct. If you've forgotten your password, please reset it. Click here
Off-Road Mayan Adventure in Cozumel with Snorkeling and Lunch
(19)
Yay! This item has been added to your cart.
Off-Road Mayan Adventure in Cozumel with Snorkeling and Lunch
Recommended for your Cozumel trip
Free Cancellation
up to 24 hours in advance
Loading available options...
---
---
Hotel pickup offered
Mobile ticket
---
Discover the Maya ruins of San Gervasio Park and blaze along Cozumel's off-road trails aboard a dune buggy on this 4-hour tour. In San Gervasio, walk through the oldest Maya city on the island, learning about its archaeological importance along the way. Then, drive or ride in a dune buggy for a thrilling, splashy adventure. Dial down the adrenaline with peaceful snorkeling along one of the world's largest barrier reefs and enjoy lunch at an exclusive beach club.
4-hour guided tour to San Gervasio Park and dune buggy adventure in Cozumel
Explore an old Maya village and admire its architecture in San Gervasio
Rumble along off-road trails on an exciting dune buggy tour
Snorkel at the upscale Playa Uvas beach club
Lunch and snorkel gear included
Choose from several departure times to suit your schedule
Hotel transport available for groups of four or more
Saved to wishlist!
What's Included
Hotel pick-up and drop-off (If your group is of 4 or more passengers)
DVD (available to purchase)
Alcoholic drinks (available to purchase)
Hotel pickup and drop-off (for groups of less than 4 passengers)
MARINE NATIONAL PARK ENTRANCE ($ 5 DLLS) PER PERSON
Departure & Return
Departure Point
There are two different meeting points, each at the north and south ends of the island.  Please see voucher for details.
Additional Info
Confirmation will be received at time of booking
No heart problems or other serious medical conditions
Travelers should have a moderate physical fitness level
Not recommended for travelers with back problems
Not recommended for pregnant travelers
Valid driver's license is required
Minimum age is 18 years to drive
A minimum of 2 people per booking is required
OPERATED BY

Playa Uvas
Cancellation Policy
For a full refund, cancel at least 24 hours in advance of the start date of the experience.
This experience requires good weather. If it's canceled due to poor weather, you'll be offered a different date or a full refund.
Learn more about cancellations.
---
Traveler Photos
Reviews
Reviews by Viator travelers
Showing 1-10 of 39 reviews
Too much in one thing, nothing well done
There is a lot of stuff going on on this trip. Mayan ruins were cool by too short to really check it out. Dune buggies, very little instruction and very sketchy pedals. One of our folks crashed right away because the brakes weren't working right. They blamed the driver then billed us for $60 to "repair the damage". Told us they needed a part but it was then miraculously fixed. Still needed our money. Better not to argue in Mexico when you are in the middle of no where. Beach and lunch was nice at Playa UVas. Wouldn't do it again.
Our tour guides were great and we did not hold them at fault. The "off roading" was in a rock quarry. 2 of the 3 dune buggies broke down at the beginning of the off roading. The snorkeling was just stepping into the ocean at the beach with alot of other people and hoping to see something. We only had about 20 minutes to snorkel. The lunch we were provided was great!
This was a good tour, we met our guide and drove to the the Maya ruin of San Gervasio. We had about 20 minutes to explore the site. We then went to an off road track to drive for another 20 minutes. We then headed back to Playa Uvas. We opted for lunch instead of snorkeling and we were suppose to head back to Cozumel . I asked for more time at the beach and the guide said we could stay but we would need to pay our on transport back to town. We were good with that. Overall a great trip
This excursion was quite...
This excursion was quite unstructured. The guide met us as planned and took us to see the dune buggy or optional automatic car that had doors removed, etc. As there was a fair bit of city road driving we chose to do the automatic car for on-road driving and then dune buggy for off-road. We followed the guide who drove the dune buggy and first went to a Mayan ruins in a large National Park. Entrance was included and we did a self tour for approximately 20 minutes. We then went to a small beach area for some photos - not much there. We then went to a large area and self drove the dune buggy for approximately 15 minutes again following the guide. Last stop was a beach area where we had a nice lunch with beverages and we could have stayed longer at the beach if we wanted to. Guide was quite flexible as to what we did but English was not that good. It was just the three of us in the group - mom and two adult daughters. Good to see more of the island but it involved a fair bit of driving, with no commentary, and stops were okay but not spectacular.
The dune buggies were rusted and in...
The dune buggies were rusted and in need of repair. The accelerator pedal was a piece of metal which caused the foot to slide off. There were no safety features, shoulder strap, helmet, googles, brake lights, tail lights, or turn signals. All this was a problem due to the drive across the island on city streets. Our tour guide was in the lead and his buggy broke down twice in traffic. Not a good situation. The off road adventure took place in an abandoned quarry strewn with old broken down equipment. We wore bandannas suggested by another review to keep the dust and gas fumes from choking us. A fun part of the adventure was the Tequila tour, which was not advertised in the excursion info. We were given 15 minutes to sprint through the Mayan ruins without any explanation of what we were looking at and no time to read the posted signs. As far as the lunch at the beach, it was minimal. Nothing compared to other beach patrons who ordered off the menu. No mention of towels from the ship, so we could rent a 4 towel. Snorkeling was fun due to a photographer feeding the fish while he took pictures of us. The kicker, if you want the pictures it will cost you more than the excursion. There must be better excursions to spend 340 on.
It was a lot of fun. The buggies are...
It was a lot of fun. The buggies are old and break down a lot but there is a mechanic that travels with you and gets you going if you break down. We spent too much time at the ruins and Tequila tasting to be able to go back to the beach club and snorkel after our lunch. This is because we were on a cruise ship and had to be back at 330 pm. Driving thru town and the gravel pit was fun. If you are on a cruise ship do the 830 am one so you will have time to use the beach club. We went for 930 and couldn't. If you are on a cruise ship they wont pick you up even if you are more than 4 people. They said it was illegal to pick up at cruise port but I said all they had to do was give us a location to be picked up at away from the terminal but they said no. We had to take a taxi there and back which cost an extra 48.00 USD. We had 6 in our group
Alright, so I loved the idea of this...
Alright, so I loved the idea of this tour and ultimately had a good time, but the equipment that we used was SO sketchy that I could not rate this as a 5 star. My whole family went together 6 people we had three drivers. We are all adventurous. I leaned over a few times and told my daughter that this very well could be our last day on earth! The staff was great and took awesome care of us. They did the best with what they could. I loved the idea of these sand buggies, but wow, they were really rough. Could only find two gears. My rig died halfway through trip, another had the shifter rip out of the floor. Not one was problem free, but we all made it back home and ultimately had a blast. We will remember this excursion for a long time. We never got stranded. My wife was even given an automatic car to drive after hers was impossible to shift. The young men with us on the excursion were polite and helpful. The tour ran long, but we spent a lot of extra time trying to keep the rigs running. Lunch was great and the snorkeling had sting rays and fun fish to see. Overall fun, but just know that it will be an interesting ride in the dune buggies. I hope that the owners would spend just a little bit and maybe put on a gas pedal or two. That would be helpful. But on the other hand, that added to the experience! Haha
I embark on tours in Mexico with a...
I embark on tours in Mexico with a certain reduced expectation, as I have been on many. Generally, the equipment is a little run down, the workers are busting their humps to keep the equipment running, and the experience isn't all it is purported to be by the glossy brochures. This tour, however, is the bottom of the barrel. In fact, it was so bad, it was comical, and my son and I laughed pretty much the whole time, which, conversely, actually may have made the tour worth it from sheer ridiculousness. Let me expand. My son and I arrived early, so had a chance to inspect a broken machine in the parking lot prior to departure. I walked around the unit with him, pointing out all of the unsafe features, and postulating as to which particular feature prevented this unit from being used in the prior tour. Was it the missing gas pedal? The broken shocks? The rusted out floorpan? The missing air cleaner on the exposed carb? Maybe the wiring that was mysteriously hanging from the ignition coil? The broken seatbelt? Missing blinkers? Imagine my surprise when a worker jumped into the vehicle and drove off down the road... I assumed to the junkyard perhaps. Shockingly, a virtually identical vehicle showed up for our tour. Broken components everywhere, wiring hanging askew, holes in the floorboards, and just a general state of disrepair. I described it to my son as such: This vehicle, when new, was probably worth about 8 or 9 thousand dollars. In this state of repair, it's probably worth about 500 dollars. As they are renting it for 170 bucks for every two passengers, and going on 3 tours a day, this buggy pays for itself every day, and these operators are milking it for every dime they can. I explained that this was actually smart business, except for one small thing. The internet. I am here to implore you not to rent from these guys. And I haven't even gotten to the good parts yet. We start the vehicle. Obviously based on a VW bug vintage 1972, it sounds and feels like I imagine one of these cars might. With a few exceptions. This vehicle has been beaten mercilessly every single day of its life, and it is obvious. We started off down the road, and a few safety considerations reared their ugly heads. Number one, the gear shifter was more vague than a politician asked about past indiscretions. 1st? 2nd? Reverse? 3rd? All absolutely random in their positions. 3rd gear, for example, was defined by about a 12 inch span of area that sometimes accompanied 1st. The buggie would not hold second, popping out of gear whenever you backed off the gas, at all, grinding insanely as if you had just selected Reverse. In fact, if you weren't careful, it felt like you could easily miss 2nd and end up in Reverse. The Brakes? A mere suggestion. In fact, brake travel was so long, that it was very easy to hit the vestigial gas pedal-stump thing with your foot while you were passing by during your near infinite brake travel. On the subject, during one panic stop the vehicles have no brake lights, and the woman in front of me failed to remember to signal, probably as she was braking for dear life, I became aware that only my right front wheel locked as the buggie wildly yawed, further exposing the braking systems shortcomings. The steering also had 8 inches of play, adding to the fun. Anyway, after driving for 15 minutes in stop and go traffic, alternatively holding the gear lever in second and holding on for dear life when braking, we got the the first stop in our journey, where we picked up fellow suckers, I mean tour-goers. At this point, they gave me an alternative buggie, and gave some other hapless soul our buggie. This one road like a veritable cadillac and shifted like a miata, until that time when the ENTIRE GEAR SHIFT BOX RIPPED FROM THE CHASSIS! Now the Tour operator, Francisco, who was a prince, btw, and a great guy Volunteered his actual VW beetle, which, my son noted, appeared to be missing many chassis bolts, any front end bushings, had a failed trans, and the seat wasn't bolted down. The welds were also broken, and the chassis was coming off the frame. Now, at this point, the sucker who got our buggie had complained enough that a spare buggie showed up, so back into Buggie 1 we went. This guy's new buggy immediately suffered an electrical failure, leaving us all stranded again. In fact, out of the four of us, no one had a working buggie! On to the offroading. After 1 hour or so on Mexico's fine road system, we got to spend 20 minutes in an off road park. Imagine your local quarry allowing you to drive around their lot with some loose stone and broken pavement with some man made bumps in your terrifying failing buggie, hoping that the whole shebang held together, and you get the picture. But the 20 minutes was only because one of the other buggies broke, so 10 minutes was fixing it! The Parent company should be ashamed! Out of room, but I could kee
These buggies were the biggest piece...
These buggies were the biggest piece of trash I have ever seen. No seatbelts or helmets, faulty transmissions ( better know how to drive a stick cause you cross busy intersections). The metal rod that is used as a gas pedal is also sticks. We never toured the shoreline or received pickup.
The carts were not in great shape...
The carts were not in great shape - our group started the tour with 5, and ended with 3. The one we were in had a sticky accelerator, so it would either continue to accelerate when you release the gas, or idle at redline when you depress the clutch, until you figure out how to reach down and pull the pedal back with your toe our accelerator pedal was a repurposed piston. Challenging to do while trying to navigate unfamiliar roads through town. Also, in addition to the listed activities, they added a stop at a tequila factory. They do not actually make tequilla there, just sell it to tourists. And they were not terribly understanding that we did not want to drink any of it! In fairness, the other people on our tour bought some, so perhaps it was good tequila, but not how we wanted to spend our time. The off-road portion was okay, but short, only one trip through the course, and not very fast although that was likely more due to the driver in front of us than the trip itself. We didn't stay for lunch or snorkeling, so I can't comment about that. The resort where that was seemed okay. The beach was pretty rocky - they had mats to create a pathway to the water, but it was definitely not for anyone with balance issues! As for the ruins - don't expect big pyramids! These were much smaller, and pretty ruined. It was interesting, and a pretty location for a short walk, though. Be prepared to pay extra if your camera has video capabilities, or don't take pictures.
---
Questions?
---
Explore Similar Things to Do
We guarantee the lowest price on all 200,000+ experiences we sell. If you find the same product cheaper within three days of booking or while you're in your destination, we'll refund the difference.
It's Easy To Do
Gather your information
Assemble your Viator Booking Number or Itinerary Reference Number and the proof of the lower price you found.
We'll review
We'll examine your materials and get in touch as soon as we can.
Receive your refund
If everything checks out, we'll refund you the difference between the two prices.