Ek Balam Tours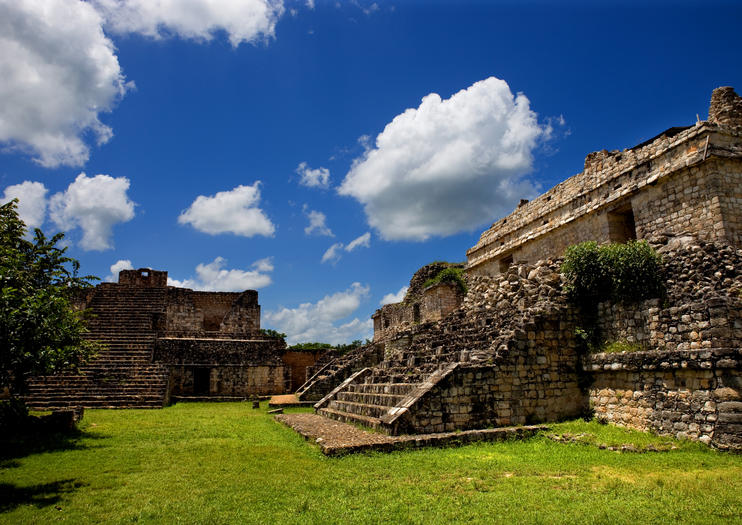 Once an ancient Maya town, Ek Balam (meaning "black jaguar" in the Mayan language) is now one of the largest archaeological sites in Mexico, famous for its 96-foot-tall (29-meter-tall) Acropolis, a stone temple that offers picturesque jungle views from its peak. Don't miss the jaguar motifs peppered around the site's numerous structures. 
The Basics
Situated about 100 miles (160 kilometers) from the popular tourist destination of Chichen Itza, Ek Balam isn't quite as popular as its massive neighbor, making it less crowded. The attraction offers a chance to imagine Maya culture as it was thousands of years ago. 
Ek Balam tours typically include hotel pickup and drop-off, and leave from Cancun, Playa del Carmen, and other Riviera Maya destinations. Excursions range from a half day to a full day, and often visit other popular attractions such as Tulum Archaeological Site, the ruins at Chichen Itza, and nearby cenotes (underground lakes). Private tours are available for a personalized experience, and some day trips include a personal photographer. 
Things to Know Before You Go
Ek Balam is a must-see for history buffs and culture lovers. 

The Caribbean sun can get very hot and there isn't much shade at Ek Balam, so remember to bring sun protection and plenty water.

It's a good idea to wear comfortable shoes so you can explore the ruins at length. 

How to Get There
Ek Balam is located on Mexico's Yucatan Peninsula, roughly two hours by road from Cancun and Playa del Carmen. You can get there by taxi, rental car, or guided tour. The closest international airport is in Cancun. 
When to Get There
Ek Balam is busiest from December through April, when the weather tends to be sunny and warm. There are fewer crowds during hurricane season (May through October), but be sure to check the weather for storms if you plan to participate in outdoor activities.
What to See Near Ek Balam
The nearby Quintana Roo region is full of attractions, both natural and man-made. Nearby Playa del Carmen is a popular spot for swimming, sunbathing, and shopping. The Maya ruins at Coba are also a must-see, with a 138-foot-high (42-meter-high) stone pyramid. The archaeological sites of Tulum and Chichen Itza are also great spots to explore. For an island getaway, visit the shores of Isla Mujeres or Cozumel. 
Address:
Ek Balam, The Yucatan, Mexico
Read More
Show Less
58 Tours and Activities to Experience Ek Balam