Things to Do in Koh Tao
Stationed in the crystal blue waters off the western shore of Thailand and previously uninhabited, the tiny island of Koh Tao—measuring just eight square miles—today offers travelers a taste of a true tropical getaway.

The island, which is named after the now endangered sea turtles that inhabit the area, has gained enormous popularity in recent years for offering some of the most beautiful beaches and best diving opportunities in the gulf. Whale sharks, stingrays, reef sharks, turtles, colorful coral gardens, and a few shipwrecks promise unforgettable adventures underwater, and on land, several beautiful stretches of fine, bright white sand as well as hills covered in rain forest give off that typical island paradise vibe.
With an array of resorts, bungalows, shops, restaurants, and dive shops on the island, visitors looking to relax can do so on palm-lined beaches with 300 days of sunshine every year, and the adventurous set can scuba dive with sharks and explore underwater coral reefs. A raging bar scene, complete with loud music and strong drinks, rounds out the experience, ensuring there's something for every type of traveler in Koh Tao.
Read More
Show Less
---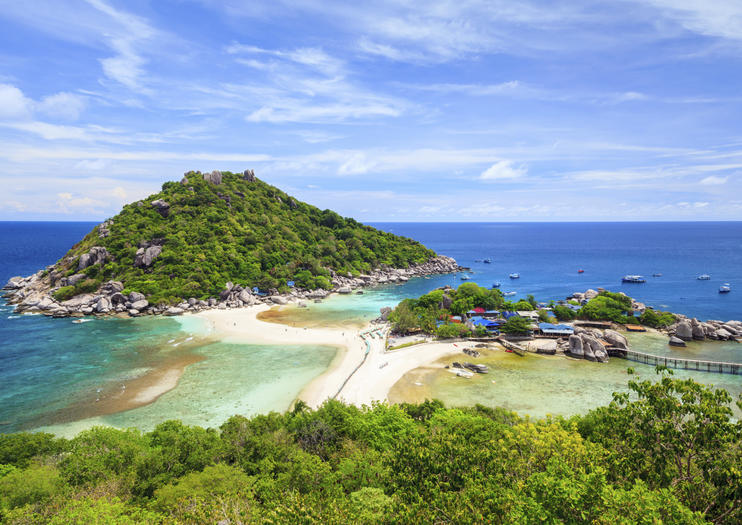 In many ways, Koh Nang Yuan is the paradisiacal location most people imagine when they think of Thailand. Consisting of three tree-topped islands adjoined by a tan-colored sandbar beach, Koh Nang Yuan is one of the most sought after destinations in all of Thailand. The best part? Unlike nearby Koh Samui or Koh Tao, accommodation options are extremely limited on the island, meaning the crowds remain relatively sparse as well.
Most people come to Koh Nang Yuan on day trips from other nearby islands and snorkeling excursions as well as scuba dives are extremely popular. And although the quick day visits are available, you'd be doing yourself a great favor by coming to the island and spending a night or two. In the evenings and early mornings, you can almost have the entire beach to yourself. During the heart of the day, activities such as snorkeling, zip-lining, and hiking are available.
Read More
Show Less
---